I had no choice but to take the vaccine. Unfortunately, I don't live in West Bengal, Assam, Tamil Nadu, or Kerala, where there will be no COVID-19 surge until elections are over. I didn't even book tickets to the Kumbh, where one holy dip could take care of it all.
What a wonderful time to be over 45. I am overwhelmed with options to how I want to live or die. Should I live Ram Bharose a little longer and wait for the Russian dude Sputnik? Stalk the American, J&J? Or should I obsess over the half-desi Covishield or hitch a ride with the desi boy, Covaxin?
Sadly, I don't think I can wait much longer. Too bad I don't live in West Bengal, Assam, Tamil Nadu, or the God's own country that will see no surge in COVID-19 cases until elections are over. I blame my bad karma that I am trying to fix by watching election rallies in a loop and booking tickets for the Kumbh. Because at a time like this "hamein dawa nahin, dua ki zaroorat hai". Who needs a vaccine, when all can be taken care of with one dip in a holy river milling with devotees and their germs?
When 2021 ushered in the Vax bois, I didn't exactly do the ghoomar. True, until last year when I was exhausted from clicking sunrise and sunset pics from my balcony and dying to rise from my couch faster than banana bread, the promised vaccines were my knights in a shining syringe. Then I took a trip to Goa, where Covid seemed like "Maya" – it was everywhere and nowhere.
Meanwhile, friends, neighbours, and countrymen were getting high on shots. No way was I going to be part of the vax populi dying to get the jab. My parents were vaccinated thanks to my constant haranguing, reuniting me with achhe din where I could finally go back to being the adult who still depends on them to get things done. What more could I ask for?
But soon, Maya broke up with me and left me to cope with reality – the second wave… which with each passing day feels more like a tsunami. I could no longer be Ram Bharose.
When 2021 ushered in the Vax bois, I didn't exactly do the ghoomar.
I was now staring at the ceiling and thinking how terrible it would be if I were the first one among my family and friends to RIP. I wanted my husband to say nice things about me while I was still alive.
I got restless and plus there was FOMO. Everyone was putting their post-vaccine selfies on Instagram. Of course, I wanted to be part of the "tika utsav". I too wanted to be asked, so, which one did you get: Covaxin or Covishield?
Time was ripe to dig my claws deeper into the Vax bois. I wanted more clarity on their background, political ideologies, and hygiene. Covishield, at first, was the darling of the liberals and then the West started complaining. I took every conspiracy theory seriously, argued passionately on WhatsApp with my friends until my non-existent blood clots threatened to walkout like MPs do every now and then.
With great trepidation, I booked a slot at the nearest vaccination centre and immediately got cold feet. Unfortunately for the vaccines, I still hadn't made up my mind which prick I should settle with to give me a headache. Time was running out and I didn't want to be the lonely one with no low BP, fatigue and fever stories to share. So I set out clutching my Aadhaar card and my heart and got my first shot of the vaccine.
I can't recall the last time a prick felt this good!  In fact so good that I moonwalked out of the hospital and walked into our apartment waving the vaccination certificate triumphantly at my bored daughter. My smugness knew no bounds. I was now a half-Vax and ready to rub my superiority on millennials, Gen Z, and their immunity. With antibodies surging through my veins, I started sounding like a motivational WhatsApp forward to the rest of the lot. Why be a Mrs Doubtfire when you can be a Sureshot?
I had stocked up on pills and Boroline to fight the side-effects.
I had stocked up on pills and Boroline to fight the side-effects. But my antibodies are lazy Bengalis and denied me the joy of getting fever or any discomfort. But thank god for my overpowering feeling of recklessness. It compensated for it all and kept goading me to do something risky like running into my building lift without a mask.
Jaa Simran, jee le apni zindagi.
Simran is trying her best to live her zindagi king size. But she can't rid herself of the irritation she feels at the rest of her family and friends who don't have the decency to be the right age to make the cut for the vaccines. Or the doctors for having the audacity to test positive for Covid even after getting the second dose of the vaccine. "How dare they," she wails as she breaks her bangles against the wall.
Her insomnia has turned out to be her most loyal mate. She's now up all night with an anxiety of a different kind. How much longer does she have to wait for her second shot before she gets her vax passport? Her BP is shooting for the stars as she waits impatiently to start packing for an exciting destination. But wait, how will she know if the bartender fixing her drink is fully vaccinated?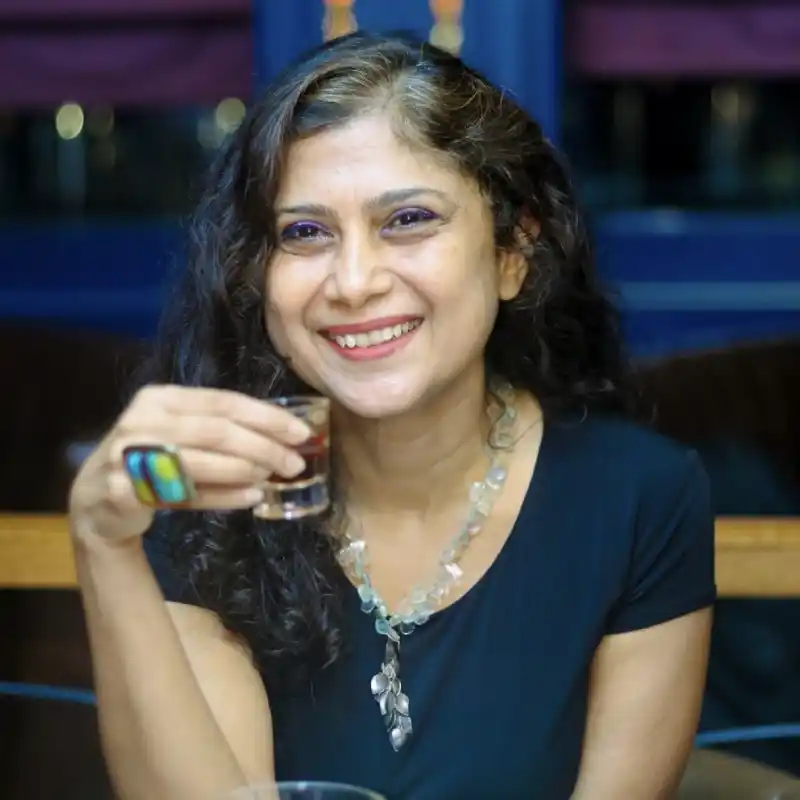 Nearly funny, almost liberal, rarely serious, Purba likes to keep a safe distance from perfection. Unfortunately she has an opinion on everything, fact or fiction, beginnings or ends, light or heavy, long and short.